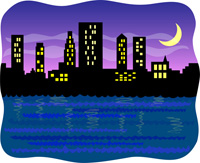 David's Play
Amanda Linden is opening in a new Broadway show tonight: a jukebox musical called Notorious! Ten years ago, when she graduated from college, she and her five best friends all promised that, whichever one of them made it to Broadway first, the others would all be in the audience on opening night. So on this special night, most of the members of this once-close-knit group have descended on the upscale Eighth Avenue apartment Amanda shares with her husband Leo. Ian, a director living in the Midwest, has brought his friend Joshua along; Molly, now a New Jersey housewife, has managed to get a rare night off from her childcare duties; and Barry, a standup comic, is a bit too excited about seeing her again. The only friend who didn't keep the promise is David, a charismatic actor who was the center of their group but disappeared mysteriously in the city three years earlier. Could he still be alive? David's Play is warm and witty, cynical and hopeful, a play about friendship, loss, and finding the courage to pursue your dreams when life doesn't go the way you thought it would.
Cast: 5 men, 2 women.
Two acts.
One realistic setting.
This play was workshopped at The Ensemble Studio Theatre, and produced byExpress Lane Productions at the Chain Theatre as part of the 2019 New York International Fringe Festival.
Click for photos and review quotes from the production.

This play is currently unencumbered.

Click here to read the opening scene.
An acting edition of the play is available from Next Stage Press.